Map of DAGUPAN CITY, Pangasinan
The City of Dagupan
(Pangasinan: Ciudad na Dagupan) is a 1st class city in thePhilippines. It is an independent component city of the province of Pangasinan. According to the latest census, Dagupan City has a population of 149,554 people in 25,921 households. Located on Lingayen Gulf on the island of Luzon, Dagupan is the chief port, educational, media and communication center, commercial and financial center north of Manila; an active trade is conducted in sugarcane, corn, rice, copra, salt, and an alcoholic liquor produced from the nipa palm. The city is known as the bangus (milkfish) capital of the Philippines because of its abundance of fresh bangus. The city's name is derived from pandaragupan in the localPangasinan language meaning 'gathering place' as the city has been a regional market centerfor centuries.
The longest barbecue measured 1,007.56 m (3,305.64 ft) —it was created by the people of Dagupan City on May 3, 2003 as part of the city's Bangus Festival. Dagupan City broke Canchia, Peru's 613 meters long record set in November 1999. Dagupeños grilled Bonuanbangus at the "Kalutan ed Dagupan" street party.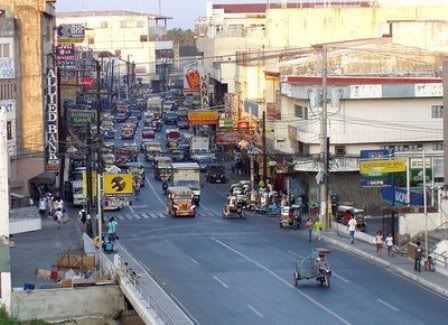 Below is a GOOGLE MAP. You have the option to view a PLAIN MAP, SATELLITE MAP OR HYBRID MAP. Drag the MAP with your mouse pointer to move around. Just ZOOM the MAP to see the details, up to 6X ZOOM. From World Maps to the Philippine Map. This MAP has a DAYLIGHT OVERLAY.